As you, our beloved readers, have noted, there are distinct biases here at NoS. The staff is east-coast based, and we seem to talk an awful lot about baseball. So I'm taking this opportunity to switch it up and talk about tennis. Well, tennis and the internets.
I. Creepy Youtube Coverage Of Male Tennis Players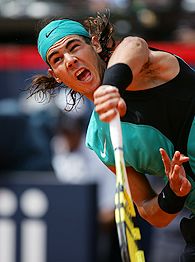 Rafael Nadal is an outstanding tennis player, especially on clay, which is evidently not just for making crappy ashtrays. He's also a pretty well-spoken guy/part-time theologian, it would seem from this ESPN piece:
"I would like to believe there is a God, but I think it is better to say I'm not sure there is a God and live your life with kindness and respect for people than to say I know there is a God and then do bad things," he said."
But, sadly, there are plenty of people in this world uninterested in Rafa's eloquence or keen understanding of Pascal's Wager. There are people who just want to ogle him and his girlfriend, a woman with the positively mythical name of Xisca.
For shame.
Oh, and these people also make pretty creepy Youtube clips. Read More