Blitz's Week 2 Rankings
Most sites' rankings follow a reader's logical expectations. I've started this whole ranking thing, so every week I would come back and update the rankings. Well, that's not what I'm going to do. If you want to see who I generally think are the best teams in the league, look at my previous rankings. Today, I'm going to go through the bottom of the league.
(If you want to know my thoughts about the top teams, its Pats 1, Colts 2, I leave 3 empty to show the gap between those two and the rest of the league, Dallas cracks my top 5)
The Matt "Matt-y Ice" Ryan Sweepstakes
1. Atlanta Falcons – Remember when they were the doormat of the league, then the player-who-we-can't-name took over the team, cured all of their woes and made them into an NFC contender. Well, that guy's gone and the doormat is back. If you are Bobby Petrino, you have to be disappointed with the situation you now face, but also happy that you weren't the guy that let Kentucky beat The 'Ville last week. I've lived in Louisville and that rivalry is very fierce inside the state. Back to the Falcons, how messed up a team are you that you give Byron Leftwich a try-out the week after his old team beats you? If you had any desire to sign him in the near future, you have to sign him the week before you play the Jags. Maybe you get information from him, maybe you don't but at least it gives Jack Del Rio something to think about other than his next killer suit.
2. Kansas City Chiefs – Between Atlanta and KC, it is close, but I will give the nod to the AFC in any tie situation. The best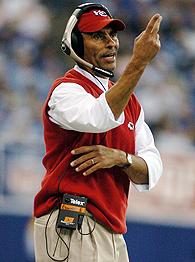 thing about this team was the HBO series Hard Knocks. This summer, I got to watch the Kansas City training camp and loved every minute of every episode. My guess for the most popular song on iTunes that isn't available on iTunes is the theme song from Hard Knocks. I would workout to that tune everyday. Anyway, Blitzette got so into the show that I now get weekly updates from her on their fringe personnel (the show highlighted the fringe players, the LJ holdout/Priest Holmes comeback, and the Croyle/Huard QB competition). "Oh, because of the Kennison injury, they have signed Bobby Sippio to the 53-man squad!" This is a real Blitzette quote, with honest excitement. What a show, what a team. By the way, Sippio is a former Arena league star. That's where this team is at right now.
3. Miami Dolphins – Cam "Cammie" Cameron was not a good choice for head coach of this team. He had been a head coach once previously, at Indiana University, where he went 18-37. After that, he went to San Diego and became LDT's offensive coordinator. Predictably, he didn't mess up that job and made that offense click with two above-average QBs in Brees and Rivers. Now, he's been hired to make it work with Trent Green and turn around a very old lineup. This is an ugly situation that will set back this team for the next 2-3 years. The Ginn decision was horrendous considering this team's glaring needs.
4. Cleveland Browns – Wow. 51 points. Contact NFL Films. The 2007 Cleveland Browns DVD will actually have enough material for a full hour this year. This was the second most surprising result of the weekend (more on the first later).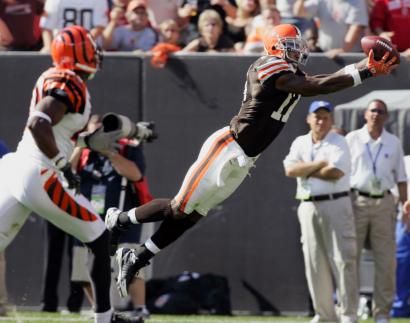 Experts now are on two sides of the fence: either this was a fluke or this was a sign of a mediocre offense that will have to win shootouts every week. People, these are still the Cleveland Browns. They were who we thought they were. I think last week was more about Cincinnati's D, than Cleveland's O. I don't think the Browns score more than 25 in any other game and they finish, at best, 4-12.
5. Buffalo Bills – Dear JP Losman, Hi, I'm an Internet blogger guy. It's OK, ask Marshawn about blogging. How crazy is it that Kelly Holcolmb has another starting job? I know, that deal with the Devil is paying off way more than I thought, too. Anyway, I'd like to introduce you to Lee Evans. You see what Andre Johnson did for the Texans? Yeah, that could be you, if you just get Mr. Evans the ball. Just throw the ball five yards deeper than you think he could possibly run and watch what happens. Trust me. Sincerely, BedelBlitz.
Blitz's Lock Sorta Feel Good of the Week
Considering that you've read this far, I'm guessing you read last week's prediction. Yeah, sorry about that. Who knew Tampa Bay would do that? Who else saw New Orleans not covering and losing the game by three touchdowns? Not this guy! I thought about retiring, but no. I can't do that to my three readers. I must press on. Here's to going 1-1.
Dallas (+3) over CHICAGO – Dallas is getting points! Dallas is getting points to an NFC opponent?!? That's absurd. Look, I know the Bears held serve against San Diego, but they barely beat Kansas City, who I think is bad (see above). Chicago's defense will keep them in any game, but Dallas is bringing the lumber and their defense is going to cause fits for Chicago. So, take the points and enjoy an ice cold [INSERT SPONSOR HERE] on Sunday night while Dallas shows why they are the new big dog of the NFC.