[Business Day One] Progress Report
For starters, congratulations to Tom Glavine on picking up his 300th win. The man from Billerica has had a dominant career on a pair of durable legs, and when he's ready to hang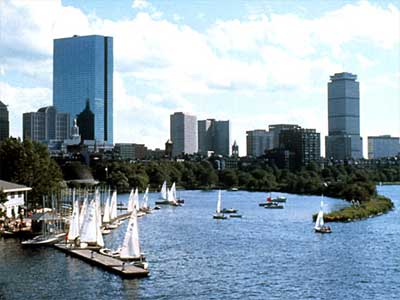 them up, people will see him as a class act and one of the finest of his era. Not a bad way to go out.
Now that that's out of the way, let's get to the meat and potatoes. With all the sports buzz bounding about in our beautiful burg of Boston, I want to give a quick snapshot of the four major sports (sorry, Revolution) for the benefit of you out-of-towners. What's going on right now is a level of multi-faceted sports excitement that fans rarely see condensed into once city. With three teams widely expected to make deep playoff runs over the next year, there is an energy coursing through the Boston's fans that have apparently nullified any bitterness or latent pessimism that longtime residents might expect to find. So here's a break-down by team, and how each franchise is contributing to this buzz.
The Boston Celtics – Pierce, Allen, Garnett: The New Big Three. They give this team boundless upside in a soft conference. A very good playoff seed is highly likely right
now and an Eastern Conference Finals is coin-flip odds. The Celts are a perfect off-season buzz machine. Three players regarded as some of the best at their respective positions. Three leaders from three different teams coming together. A very coachable, seemingly ego-less trio that all want to win. You couldn't ask for a better group to talk about with the season still months away. ????? ??? ??????
Practices haven't started yet, and injuries to old sets of legs
haven't begun to crop up. Right now, the only info fans get to run on come from Big Three press conferences and appearances. Garnett's smiling face during a visit to Fenway, Allen's eloquence and snappy fashion sense and Pierce's quote on "[feeling] like a rookie again" keep the whole city high on three guys with a combined age in the early 90s. I, personally, am very excited for this upcoming season. ??????? ?????? I don't want to be a downer that says hamstring pulls, lack of depth and no true center will limit the Celtics run. I will just freely admit that this team scores a 10 out of 10 on creating hype before the season starts, and will most likely score below that once they hit the hardwood. But until I see a loss on the board, Go Green!
The New England Patriots – A good chunk of the sports world wants to hand the Lombardi Trophy to the Pats before their first game. I wouldn't be opposed to that, so we can celebrate their 4th Championship in fall clothes instead of winter coats. The stratospheric level of faith that the fans have in Belichick and Brady have been further exalted by brilliant off-season additions, and everyone seems to be so confident in a 14-2 regular season that they expect it to be like an extended preseason. Just something that needs to get done before the real work starts in January. I certainly don't mind the arrogance (I'm a Yankee fan after all). ???? ???? ??? ???? In fact, I'm glad the Pats fans finally have a swagger – they deserve it.
The Boston Red Sox – Despite the Yankees blistering winning percentage since the All-Star Break (19 of 26 games, or 73% for you math majors), the Sox are still holding on to a 7 game lead. Of the three Boston teams with playoff aspirations, the Sox seem to be generating the least amount of buzz. Folks up here are used to slugging it out down to the wire with the Bombers, so the fact that the lead has remained comfortable for months seems to have dulled everyone's senses. So J.D. Drew is under-performing and the offense is inconsistent. Doesn't matter at this point, because they're still winning games and Schilling is back soon. The Sox, barring some faith-destroying series of injuries, are going to roll into the playoffs with their pitching in order and their bullpen rested up. Ho hum, it seems.
The Boston Bruins – Well… they're still playing hockey. And they have a new center! Who, ummm, played in Sweden! And one of their wingers had a distinguished Boston College career! Sure, so I'm reaching. The Celts, Pats and Sox are all on the cusp of greatness. It'd be rude to ask for a fourth contender. Still, the die-hards go to the Garden to watch them, and I'll try to pick up a game when the Devils are in town.
It's called Bruins.